AV hire Budapest for events and conferences
Our Agency provides AV hire Budapest and any technical equipment for different type of events in Hungary. We offer sound systems, lighting, projecting and LED walls. We do corporate event, conference, presentation, lecture, award ceremony, gala evening, reception, private parties, enterntainment events, and live music performances. Audio-visual rental service is available for event boats and any venue in Budapest and outside Budapest. We offer our audio visual equipment in different quality levels. So our customers can find the most optimal package, which fully meets their expectations and the budget of the event. We also provide AV hire Budapest for party entertainers, live music bands, and Djs. For conferences you can also hire a professional interpreter system. Besides the audio-visual technical packages, we are also implementing special ideas and technical requirements. AV hire Budapest includes well-trained technical staff, and on request there is a possibility of prior on-site visit. The set up fee depends on the possibility of the venue and the quality of the technical equipment.
Audio hire and interpreter system rental for events and conferences
We offer our audio rental service and professional technical equipment from mid-range sound equipment to the highest quality sound systems (L-Acoustics, Nexo, Funktion-One). AV hire Budapest also includes professional conference sound system, which meets the technical requirements of the given event or conference. In addition, we offer live music sound system, audio systems for art productions, music bands, dance events and party DJs. A professional interpreter system also can be added to our complete conference system rental service.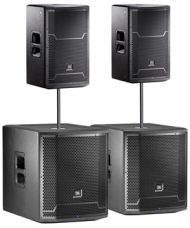 Lighting and projecting hire, LED wall for rent
In addition to our audio rental service, lighting and visual equipment also can be booked on demand as well as stage hire. You can rent a stage in any size depending on request and the features of the event venue. The assembly of lighting system includes stage lighting as required, room lights, dance floor lighting and any other lighting if needed. Our visual rental service includes projectors, beamers of various capacities, LED walls and LCD monitors on demand. A professional event videography and photography service can be added to any event.